THE PEOPLE v THE BANKS: Eviction Stopped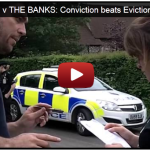 This is the story of how on 31 May 2012, the Bird family were facing eviction from their home in Potters Bar. However, a small group of people decided to stand by the Bird family and resist the eviction that was about to take place.
"This film is a testament of what can be achieved when we stand together….."
"Every day, all over England and Wales the international bankers are unlawfully evicting We The People, from our homes, in what has been one of the biggest scandals currently facing this country. in 2011 alone at least 36,000 repossessions were executed by the banks. However, as you will see, they are based on a gigantic criminal scam."
When watching the film I am surprised as to how unprofessional the bailiff (Paul Higgs) is. Firstly turning up at the premises smoking a cigarette and then his aggressive attitude! When asked to see the warrant one man replies "There is the F***ng warrant!"
"When they requested to see a copy of the document EX96 "The Bailiff deliberately as the paperwork folded in such a way so as to hide the EX96"
"The EX96 is a key document that transfers liability from the court to the bank in the execution of evictions and is what they used to authorise force to be used by the police."
"The EX96 must be signed by the bank and return to the court three days before the eviction or it must be cancelled."
The video is quite a long video but it is well worth watching!
http://www.youtube.com/watch?v=FPKOa-5GPPg